Windshield Repair & Replacement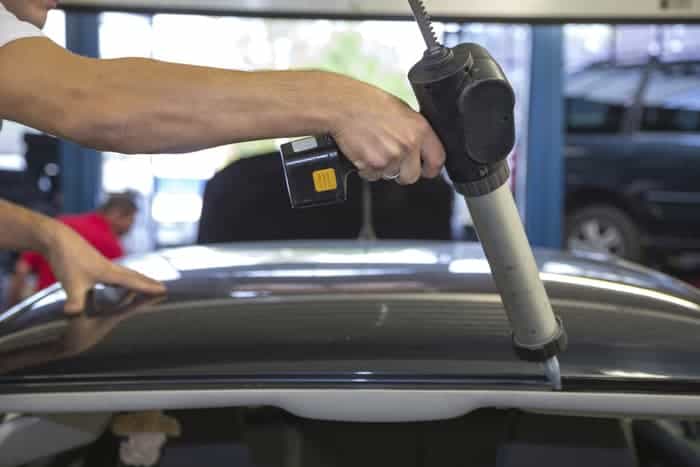 Why spend an entire day waiting on a windshield repair or windshield replacement when you can enjoy a 1-hour-drive-away time at Jones Paint & Glass? We are one of Utah's top-rated glass experts, carefully cutting each car glass and windshield replacement to its precise dimensions. But, knowing how important your windshield is to your safety, we are also extra picky in choosing our glass adhesives.
That's why we've chosen Sika, the best and safest windshield replacement adhesive in the industry.
Watch Sika's video on windshield safety
to get a glimpse into how Sika adhesives ensure greater security for car window repairs. While lower quality adhesives require up to one-day of sitting time before you're able to drive your car again, Jones Paint & Glass' use of Sika means you can safely and confidently drive away one hour after a windshield replacement.
Some other features and benefits of visiting a Jones Paint & Glass store for your car glass or windshield repair needs are:
Original equipment manufacturer/OEM parts (order replacement glass directly from your car's manufacturer)
Restoration for rust and corrosion (we are equipped to take care of most rust issues)
Custom flat glass projects (our specialists also supply flat glass windows customized for your vehicle)
Whether you need a windshield, back window, or other car glass repaired or replaced, our experts will provide quick service to get you back on the road safely. Call one of our
auto glass shops near you
to request a free estimate, or stop by for same-day rock chip repairs and windshield replacements!
Rock Chip and Windshield Repair
Do you have a chipped windshield? Visit your nearest Jones Paint & Glass for affordable rock chip repair at our auto glass service shops. A little rock chip can turn into a cracked windshield all too quickly. So don't wait to bring your vehicle in before a small windshield repair turns into an entire windshield replacement. We'll resolve the problem efficiently at a lower cost than other windshield repair shops.
For first-time car window repair customers at Jones Paint & Glass, we even offer one free rock chip repair during your first service. Call for more details or to receive a free quote for our car glass repair services.
Windshield Replacement
Your windshield is important for the structural integrity of your car. If you experience a windshield replacement service that uses an inferior adhesive, your windshield may not provide you with the safety and protection it should. One bad windshield installation can be the difference between whether or not an accident causes serious injury.
Jones Paint & Glass takes windshield safety very seriously, which is why we strictly follow mandated installation and drive-away guidelines to ensure you have full confidence after we install your windshield. We also protect your investment by offering a lifetime of FREE rock chip repairs when you get a windshield replacement through Jones Paint & Glass. Contact us today to learn more!