Residential Windows and Doors

Whether you're looking to revamp your home or office's curb appeal or simply looking to enhance the look you already have, Jones Paint & Glass windows and doors can help turn your vision into a reality. Our glass is not only beautiful but also energy efficient, meaning you can get the look you want while cutting your energy bills. All of our replacement windows are built to be energy-efficient, cost-effective, and hold up against the elements (water, air, noise). The other good news: All of our replacement windows are backed by our special 10-year warranty, so you really have nothing to lose. Contact us today to get your replacement windows picked out.
Garage Doors
Increase your curb appeal with a redesigned garage door. With a wide variety of designs, colors, materials, windows, and accessories, finding the perfect door to complement your home will be easy. Our selection of garage doors material includes wood, designer fiberglass, carriage house steel, contemporary aluminum, classic steel, and copper. We even have a range of openers to choose from including belt drive and chain drive depending on whether you're looking for a garage door opener that is quiet, has power, or speed. We can also reinstall your existing door opener with your new garage door.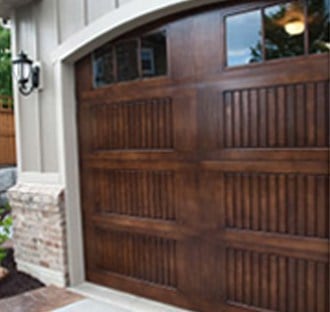 Business Windows & Doors
When it comes to impressing your customers and clients, the first thing they will notice is your company's windows and doors. In a time when aesthetics are becoming increasingly important to large and small businesses alike, your company needs to choose the right windows and doors or it could result in a bad first impression that you never get the chance to make right. In addition to improving the outside view of your business, new windows and doors will also conserve energy, add durable construction, and be resilient in severe storms. Whether your needs are purely aesthetic or you just want to improve functionality, you can trust Jones Paint & Glass.