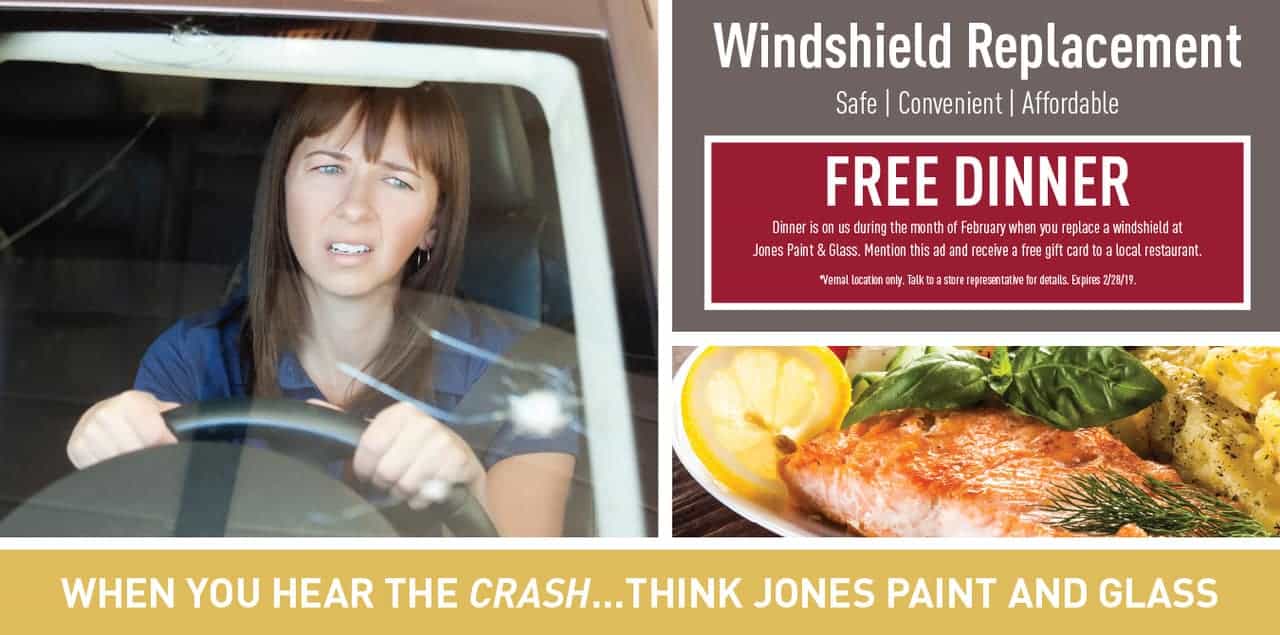 Free Dinner with Windshield Replacement in Vernal
This February, receive a gift card to a local restaurant when you have your windshield repaired by Jones Paint & Glass. Jones Paint & Glass has been in the glass industry for over 80 years and is one of the most trusted auto glass experts in Utah. Now through February 28, 2019, receive a gift card for a free dinner when you replace a windshield through Jones Paint & Glass at our VERNAL, UTAH location. For more information or to receive a free quote, stop by or give us a call Jones Paint & Glass in Vernal 543 North Vernal Ave. 435 -789-3241
Fast Windshield Replacement - 1-Hour Drive Away Time
A windshield replacement from Jones Paint & Glass means the highest quality windshield replacement with the fastest drive away time in the industry. Be back on the road with just 1 hour of curing.
1 Hour? Really?
Really. Jones Paint & Glass uses Sika adhesive for our windshield replacements. This is one of the highest-quality, safest windshield adhesives in the industry. It also has the benefit of curing in just 1 hour. This means your windshield has full structural integrity to keep you and your family safe within just one hour after your replacement is completed.
Lifetime Rock Chip Repair with Every Windshield Replacement
All windshield replacements through Jones Paint & Glass come with a lifetime of free rock chip repairs. Replace your windshield at Jones Paint & Glass and drop in to any of our 5 Utah locations for a fast, hassle-free rock chip repair.
Request a Windshield Replacement Quote